Features
---
We offer full insurance on ALL vehicles upon request. Please ask for details when you come see us.
Bicycles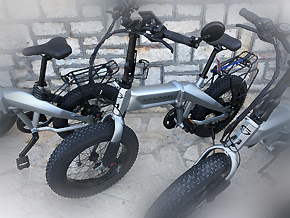 WE HAVE A VARIETY OF BICYCLES TO CHOOSE FROM What better way to enjoy all the views and corners of Ithaki, than with a bicycle. At Alpha Bike and Car Hire, we have a choice of great quality mountain bikes that will take you the distance with ease.
GT Mountain Bikes with gel seats and disc brakes. We supply LED lights front and back, locks, helmets and puncture kits if requested by client at no extra cost. We modify the bike by way of tyres, seats and SPD pedals by request prior to your arrival all at no extra cost. We do not supply the shoes for the SPD pedals.
Extra Information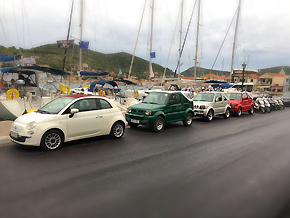 WE RENT CARS THROUGHOUT THE YEAR. WE DELIVER AND PICK UP ANYWHERE ON THE ISLAND. WE WILL ALSO MEET YOU IF YOU ARRIVE ON THE FERRY. EMAIL US WITH YOUR VACATION NEEDS AND WE WILL GIVE YOU THE BEST RATES AND SERVICE POSSIBLE.
Special rates for Weekly, Monthly and Long Term Rental with discounts given for advance bookings. Give us a call or send us an email.
Summer Season Hours: 9am -2pm / 5pm- 8pm
Scooters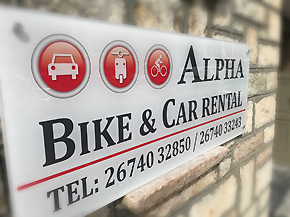 SCOOTERS: You can rent 50cc, 125cc, 150cc and 300cc scooters on Ithaca. Greek driving code applies. . In Greece if you are from an EU member country, you can rent a scooter with A and B Class Driving Licenses. Until the EU laws changed last year, this was not the case. If you come from outside of the EU please do your research before your trip to avoid problems.
We do not rent scooters to clients who lack good driving experience. Helmets are supplied for the scooters and MTN bikes for free.